Colin Bockman
"Not just another trade show"
|
2017 Aftermarket Expo – Melbourne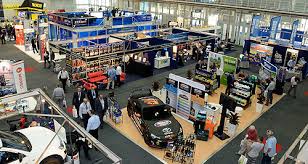 There are three secrets to gaining maximum value from attending a trade show.
One of them is to know how to maximise time spent at exhibitor stands, which I'll cover closer to the event, the second is to execute a clever way of networking with others who are there, and the one I want to cover in this article is about attending the Industry Seminars.
Sure we have all attended some which have been ho-hum over the years, but we have also attended some which had us walking out saying " you had to be there".
Well that is what we are shooting for with the format of the 2017 Expo Seminars.
This means, now is the time to start planning for your team members to be there, as the "you had to be there" aspect will be full-on with the format we will use. You see, the seminars won't be a talk-fest, they will have a degree of presentations to get the message across, but that is where the typical format ends. Each seminar will have a set-up phase which will  outline the focus of the session and the prime reasons why the subject was selected and why those participating were selected, then there will be in most cases more than one industry expert sharing their knowledge via presentation and or via me intervewing them, followed by myself Facilitating either questions from the delegates or prompting 'explanations' from the presenters.
Oh, and in case you are saying under-your-breath " but I bet they will be product sells". No they won't.
My role is to probe for insights more than accept commentary. I might add, I have no allegiance to any product or supplier, I am an independent Consultant, so I have only one objective. To get the best possible outcome for those who have invested their time to attend.
Now back to why your team need to be there. It is impossible for you to de-brief an experience like this, and it is these very experiences which will help your Technicians to better grasp the reality of the future of our rapidly changing environment, and importantly, to realise the urgent need to up-skill and take on new challenges.  So here is what to do. Have a tool-box chat with the team and work out who will go and have them read the article's in our trade magazines as they are released. Get them excited about being involved and enable them to become a more vibrant part of the  overall strategy and direction of your business.
Over the years and on many occasions, I have been pleasantly surprised at the depth of desire to be involved and work outside of the usual Technician role, shown by both younger and older.
Last point. Notice I used the term Technician, not Mechanic, that is because when you think about it, the Mechanic role was previously primality one of hard parts replacement and repairs. Now that person can sit in the drivers seat with a scan tool and diagnose and 'repair' without lifting the bonnet. Mechanic, tends to have an image of a spanner involved, Technician can be both spanner and scan tool/tablet.
Our world is evolving. Please get started now and plan with your team, as this Expo is going to be a tipping-point for many Auto Service & Repair workshops. Until next time. Enjoy the journey