The Bosch Battery Range: More than just automotive!
|
Whether it is a car, truck, boat or even a golf cart, Bosch has the right battery for the job. The range of high quality batteries covers automotive applications including heavy commercial vehicles, marine applications and a deep cycle program which can be used in various applications such as auxiliary, energy storage, golf carts, and standby applications.
PASSENGER SERIES
The Bosch passenger car and light commercial vehicle battery range is denoted by the 'S Series'. The S3+, S4, S5 and S6 range consist of over 140 batteries that suit Australian, Asian, European and North American applications. Starting with maintenance free calcium-calcium technology in the S3+, maintenance free calcium-silver technology that provides increased power and the ability to withstand higher engine bay temperatures in the S5 range to the battery with absorbent glass mat (AGM) technology in the S6 range.
S6 SERIES
The S6 range features AGM technology as a replacement option to the original equipment battery for vehicles equipped with start-stop function as well as vehicles where an AGM battery is fitted as standard equipment.
T SERIES
Bosch also has an extensive range of heavy commercial batteries denoted by the 'T Series', which offers a wide range of battery options to fit nearly any truck on the road. Bosch truck battery technology begins at maintenance free calcium-calcium in the T3 range and increases to AGM technology batteries designed to fit trucks where the original equipment battery is an AGM in the T6 range.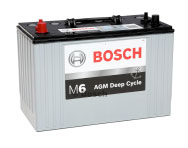 MARINE SERIES
The marine battery range is carefully engineered to provide the optimum balance between starting and deep cycling duties. They are thoroughly insulated to protect against the high frequency vibrations created by rough sea conditions. This battery range is equipped with everything from calcium-calcium technology high cycle marine batteries capable of starting and light cycling to full frame AGM technology batteries capable of deep cycling and the most strenuous conditions.
DEEP CYCLE SERIES
Under the range of deep cycle batteries, Bosch provides a high quality option to suit many applications that require frequent charge and discharge cycles. All Bosch deep cycle batteries are equipped with full frame technology. Full frame technology increases tensile strength; resisting plate growth which is a leading cause of battery shorts and delivers more power because of more grid connections.
Bosch batteries are distributed through a network of regional battery distributors with extensive battery expertise. As market trends and technology change, Bosch works to ensure that we can offer our customers a range of high quality batteries that meet the changing demands of the market.
For more information on Bosch batteries, please contact the Bosch battery distributor in your region or visit www.bosch.com.au